From the first day of service, and continuing through each and every session, the unique needs of the client are at the core of HCT's treatment model. Our professional staff work with clients and their network of care, to establish cooperative relationships and maximize the potential of our therapeutic services.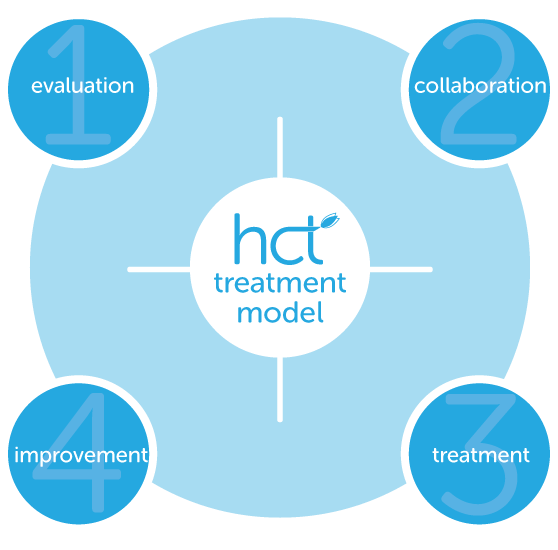 Step One: Evaluation
The evaluation process involves an in-person assessment of the client's needs by the HCT Program Coordinator or the service provider, at a time convenient to the family's schedule. This conversation helps develop objectives for treatment, by matching up the individual's personal goals and preferences for therapy with the many modalities offered by HCT. This is a great opportunity for the clients and caregivers to learn what achievements may be possible through one or more types of therapy.
One of the advantages of in-person consultation is that it establishes a structure for ongoing communication, and begins the process of obtaining informed consent and permission from the client before initiating treatment. A positive working relationship helps the HCT Therapist learn how to better meet the client's needs, and empowers the client with greater confidence in the therapist's capabilities.
Step Two: Collaboration
Through cooperation and communication with the client, parents/guardian, caregiver, nurses, and/or other therapists (e.g. Occupational, Physical, Speech), HCT Therapists determine a plan to administer services that truly compliment the client's full spectrum of care. The physician's order is of central importance to appropriately evaluating and treating the client. HCT Therapists are experts in our fields but not medical doctors; we do not guess, assume, or diagnose issues that our clients may be experiencing. We consult with the client's team of experts to learn more about medical history, other treatments being undertaken, and contraindications (conditions that require the therapist to modify or avoid treatment in certain areas of the body). This information ensures that therapies are safe, comfortable, and appropriate to the individual's unique state of health, and do not interfere with other medical conditions or treatments.
Step Three: Treatment Plan
After the evaluation process is complete, a treatment plan and session schedule are established with an HCT Therapist. Each client's treatment plan is customized to involve one therapy or a combination of therapies depending on the recommendation of the client's medical team. There may be specific activities to be accomplished during sessions, and action items for the client to practice between sessions to improve habits.
A treatment plan is a flexible guideline meant to aid both therapist and client in pursuing wellness goals. It helps to organize therapy goals, and provides a framework for the therapist to communicate objectives and progress to the client so they can take a more active role in their therapy. As sessions continue over time, the plan may be modified as original goals are reached and new goals emerge.
Step Four: Ongoing Improvement
The benefits of a well designed treatment plan range from an improvement in sleep and range of motion to a decrease in anxiety and chronic discomfort. Our Clients with special needs and disabilities have achieved incredible results, including increased regularity through regular abdominal massage, and increased independent activity such as getting into bed or changing a shirt unassisted. Additionally, when therapy is delivered on a consistent and quality basis, the whole family can benefit from the positive outcomes observed in the client; often times a client's improved overall wellness results in reduced anxiety and tension in the client's family and home.
As we measure and celebrate our clients' progress, HCT Therapists continue to move through the steps of the Treatment Model as needed to re-evaluate and adjust treatment objectives. This promotes a cycle of consistent challenges and achievable rewards, which encourage our clients to not only reach but to surpass their own perceived limitations.