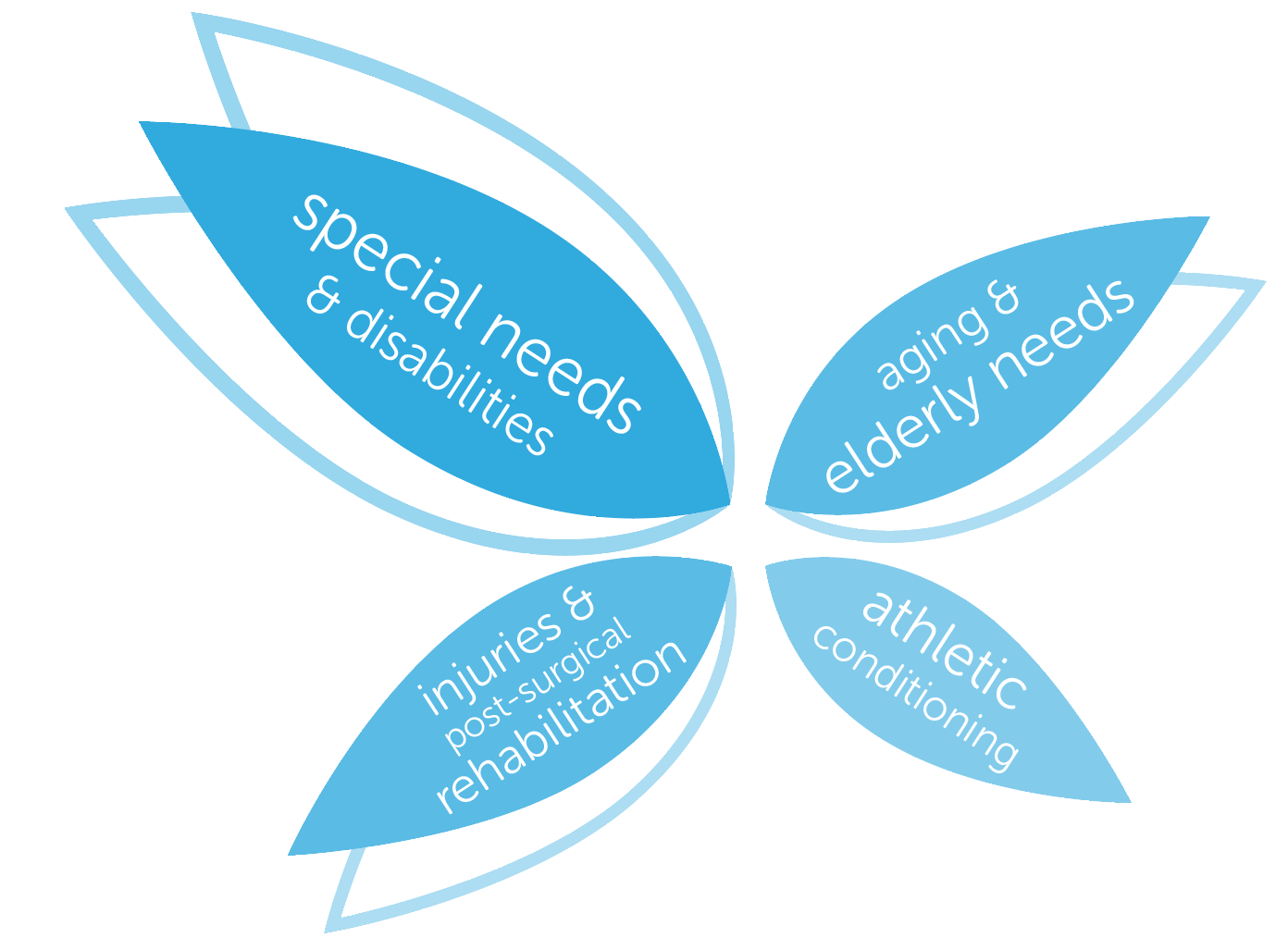 Humans have an innate ability to protect our level of health. We prevent, we maintain, and we recover. Sometimes our bodies are strained, operated upon, or impaired. People request the expertise of Health Care Therapies for many different reasons, with many different health goals in mind. Our comprehensive Treatment Model flexes to fit the goals and budget of any client needing medical massage or other therapies, including people seeking support for:
Special Needs & Disabilities
Injuries & Post-Surgical Rehabilitation
HCT's inclusive approach to therapy puts each client at the center of his or her own treatment plan, backed by a network of therapists with years of experience working with clients at every point on the spectrum of physical and neurological ability. Below, explore some of the therapeutic benefits that are achievable for each client in our community.
Special Needs & Disabilities
Diagnoses can be broad and generic, but individuals are unique and specific. For children and adults living with long-term challenges, even small moments of specific relief and achievement can have a wide impact on quality of life. HCT staff are prepared to provide customized, in-home services to meet individual goals one step at a time, regardless of a client's ability or circumstance. All of the therapies we offer are equally important to help this group of clients attain their physical, emotional, and social goals.
This group includes (but is not limited to) individuals affected by:
Cerebral Palsy
Autism Spectrum Disorder
Traumatic Brain Injury
Down Syndrome
Blindness
Amputation
Paralysis
Muscular Dystrophy
Epilepsy
Spina Bifida
Chromosomal Anomaly
Anomalies of the Spine
Spinal Muscular Atrophy
Spastic Quadriplegia
Asperger Syndrome
Pervasive Developmental Disorder
Deafness
Hirschsprung's Disease
Sotos Syndrome
Hemiplegia
Hydrocephalus
Prader Willi Syndrome
Attention Deficit Hyperactivity Disorder
Spondyloepimetaphyseal-Strudwick
Brain Malformation
Angelman Syndrome
The benefits of HCT Therapy for people with Special Needs or Disabilities may include:
Decreased pain
Decreased aversion to touch
Increased range of motion
Increased independent functioning
Increased social interaction
Improved circulation
Improved mood
Improved sleep
Improved digestion
Aging & Elderly Needs
Changes await our bodies and minds as we grow older, often presenting new challenges. Some activities that once may have been easy and even unnoteworthy are now more carefully and deliberately accomplished. The differences in one's ability to function independently, or merely the task of striving to live pain-free, can become more manageable with therapeutic treatment. According to the Pacific College of Oriental Medicine, "studies have shown that the effects of aging take place faster in people lacking mental stimulation and who engage in little physical activity… By manipulating the body and stimulating the mind, massage provides the perfect balance needed for an individual's health to thrive." HCT Therapists intuitively adjust their touch and technique to what the client needs at the time of service, so that sessions are always soothing, relevant, and beneficial.
This group includes (but is not limited to) individuals affected by:
Alzheimer's Disease
Dementia
Palliative and Hospice Care
Osteoporosis
Arthritis
Loneliness or Depression
Skin Issues
Low or High Blood Pressure
Joint Stiffness
Muscle or Bone Loss
Hearing or Vision Loss
Chronic Pain
The benefits of HCT Therapy for people with Aging or Elderly Needs may include:
Decreased pain
Decreased tension
Decreased sensitivity to touch
Increased range of motion
Increased relaxation
Improved circulation
Improved mood
Improved digestion
Improved sleep
Improved posture
Injuries & Post-Surgical Rehabilatation
After our bodies have been wounded or operated upon, returning to normal functioning can be difficult and daunting. Regardless of our treatment's success or complications, we will likely carry some scar tissue from the trauma. Modalities that specifically focus on the circulatory system, scar tissue, and range of motion can help bolster the body's natural ability to recover. Massage, for one, helps to loosen adherent muscle fibers – places where skin, tissue, and muscle are stuck together over an injury. HCT Therapists can establish remarkable programs to assist our clients' level of comfort, movement, confidence, and independence after a surgery or other forms of physical trauma.
This group includes (but is not limited to) individuals seeking rehabilitative support for:
General Surgery
Sprain or Fracture
Oncological Operation, Treatment, or Biopsy
Joint Replacement Surgery
Traumatic Brain Injury
The benefits of HCT Therapy for Rehabilitation may include:
Faster recovery
Decreased stress
Decreased pain
Reduced muscle adherence
Increased range of motion
Increased independent functioning
Improved posture
Athletic Conditioning
HCT's comprehensive focus on human health means that we know the ropes on everything from proper muscular-skeletal alignment to oxidative damage caused by stress or high-altitude conditioning. Our therapists present a diverse spectrum of experience in the realm of athletic coaching, physiology, injury prevention, and muscular rehabilitation. Regular massage sessions will help to identify and relieve areas of your body that have been injured or overused, and build greater elasticity and resilience in your muscles. Whatever your personal goal may be, from gait augmentation to shaving those last 5 seconds off of your laptime, HCT is here to help. Let us develop a program for you to embark upon your next level of personal fitness.
This group includes (but is not limited to) individuals seeking support for:
Gait alignment
Joint tension
Previous muscle damage
Sprains and injuries
Pre-event conditioning
Post-event massage
The benefits of HCT Therapy for Athletes may include:
Faster post-event recovery
Reduced cramping and soreness
Reduced pain
Prevention of minor injuries
Improved circulation
Improved endurance
Improved range of motion
Improved muscle flexibility
Although we work with clients experiencing a broad spectrum of health challenges, every client of Health Care Therapies has something in common: they have the motivation to improve their health and enhance the pattern of their lives in some way. We believe that the quest for personal health improvement is all journey, with no destination; therefore, the greatest benefits of therapy will be experienced through regularity and consistency. At HCT, all clients have the support of an agency behind them, with an established Treatment Model and a team of experienced therapists. Please contact us to learn more about how our treatment methodologies can benefit your unique needs and challenges.